Drug information of Neuroaid
Neuroaid
NurAiD II™ MLC 901 (NeuroAid) Is a proven and safe nutritional supplement made from a mixture of natural substances that helps people regain independence in everyday life through their adaptive effect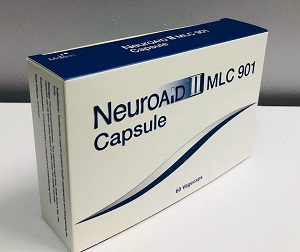 Mechanism of effect
9 Stimulates BDNF expression. • Promotes neurogenesis and maturation of new neuronal cells. • Increases neurite outgrowth and synaptogenesis. 9 Activates neuroprotection and ischemic preconditioning (K-ATP channels opening). 9 Increases cells survival.
Dosage
The patient takes 2 capsules, 3 (three) times a day for the duration of 3 months. In case of positive effects, it is advised to consider prolonging the dosage period.
1 package contains 180 capsules, which equal a 1-month dosage.
NurAiD II™ is ingested perorally. Capsules must be ingested whole. In patients with swallowing difficulties, the capsules can be opened and the powder can be added into food or drink or can also be introduced into the system via a feeding tube
Drug contraindications
Not suitable for children, pregnant and nursing women
Side effects
may cause throat dryness and increased thirst.
Alerts
The diet supplement does not serve as a substitute for a varied diet and a healthy lifestyle. Do not exceed this dosage.
Points of recommendation
Store in a dry and cool place.
Keep the product out of the reach of children. Suitable for vegetarians.
Pregnancy level
X
Not suitable for children, pregnant and nursing women
Breast feeding warning
Not suitable for children, pregnant and nursing women