Drug information of Vitamin B12
Vitamin B12
Vitamin B12 is a nutrient that helps keep the body's nerve and blood cells healthy and helps make DNA, the genetic material in all cells. Vitamin B12 also helps prevent a type of anemia called megaloblastic anemiathat makes people tired and weak.
Cyanocobalamin is a man-made form of vitamin B12. Vitamin B12 is important for growth, cell reproduction, blood formation, and protein and tissue synthesis.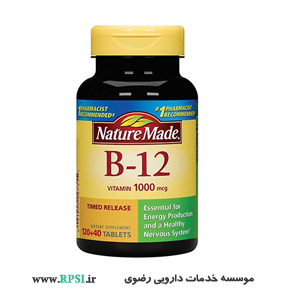 Pharmacodynamic
Vitamin B12 is essential to growth, cell reproduction, hematopoiesis, and nucleoprotein and myelin synthesis.
Cyanocobalamin is quantitatively and rapidly absorbed from intramuscular and subcutaneous sites of injection; the plasma level of the compound reaches its peak within 1 hour after intramuscular injection. Absorbed Vitamin B12 is transported via specific B12 binding proteins, transcobalamin I and II to the various tissues. The liver is the main organ for Vitamin B12 storage.
Within 48 hours after injection of 100 or 1000 mcg of Vitamin B12, 50 to 98% of the injected dose may appear in the urine. The major portion is excreted within the first eight hours. Intravenous administration results in even more rapid excretion with little opportunity for liver storage.
Gastrointestinal absorption of Vitamin B12 depends on the presence of sufficient intrinsic factor and calcium ions. Intrinsic factor deficiency causes pernicious anemia, which may be associated with subacute combined degeneration of the spinal cord. Prompt parenteral administration of Vitamin B12prevents progression of neurologic damage.
The average diet supplies about 5 to 15 mcg/day of Vitamin B12 in a protein-bound form that is available for absorption after normal digestion. Vitamin B12 is not present in foods of plant origin, but is abundant in foods of animal origin. In people with normal absorption, deficiencies have been reported only in strict vegetarians who consume no products of animal origin (including no milk products or eggs).
Vitamin B12 is bound to intrinsic factor during transit through the stomach; separation occurs in the terminal ileum in the presence of calcium, and Vitamin B12 enters the mucosal cell for absorption. It is then transported by the transcobalamin binding proteins. A small amount (approximately 1% of the total amount ingested) is absorbed by simple diffusion, but this mechanism is adequate only with very large doses. Oral absorption is considered too undependable to rely on in patients with pernicious anemia or other conditions resulting in malabsorption of Vitamin B12.
Cyanocobalamin is the most widely used form of Vitamin B12, and has hematopoietic activity apparently identical to that of the antianemia factor in purified liver extract. Hydroxocobalamin is equally as effective as cyanocobalamin, and they share the cobalamin molecular structure.
Alerts
You should not use this medicine if you have Leber's disease. Cyanocobalamin can lead to optic nerve damage (and possibly blindness) in people with Leber's disease.
Hypokalemia and sudden death may occur in severe megaloblastic anemia which is treated intensely.
To make sure cyanocobalamin is safe for you, tell your doctor if you have:
any type of infection;
iron or folic acid deficiency;
kidney or liver disease; or
if you are receiving any medication or treatment that affects bone marrow.
It is not known whether this medicine will harm an unborn baby. Tell your doctor if you are pregnant or plan to become pregnant.
Cyanocobalamin can pass into breast milk and may harm a nursing baby. Tell your doctor if you are breast-feeding a baby.
Points of recommendation
Your dose needs may change if you become pregnant, if you breast-feed, or if you eat a vegetarian diet. Tell your doctor about any changes in your diet or medical condition.
Do not swallow a lozenge or sublingual tablet whole. Allow it to dissolve in your mouth without chewing.
The sublingual tablet should be placed under your tongue where it will dissolve.
Do not crush, chew, or break an extended-release tablet. Swallow it whole.
Take the extended-release tablet with a full glass of water.
To be sure cyanocobalamin is helping your condition, your blood will need to be tested every 3 to 6 months. This will help your doctor determine the correct dose and how long to treat you with cyanocobalamin.
Food Sources of Vitamin B12
You can get vitamin B12 in animal foods, which have it naturally, or from items that have been fortified with it.
Animal sources include dairy products, eggs, fish, meat, and poultry. If you're looking for a food fortified with B12, check the product's Nutrition Facts label.
Vitamin B12 Deficiency
Most people in the U.S. get enough of this nutrient. If you're not sure, you can ask your doctor if you should get a blood test to check your vitamin B12 level.
With age, it can become harder to absorb this vitamin. It can also happen if you have had weight loss surgery or another operation that removed part of your stomach, if you drink heavily, or if you've taken acid-reducing medications for a long time.
You may also be more likely to develop vitamin B12 deficiency if you have:
Atrophic gastritis, in which your stomach lining has thinned
Pernicious anemia, which makes it hard for your body to absorb vitamin B12
Conditions that affect your small intestine, such as Crohn's disease, celiac disease, bacterial growth, or a parasite
Immune system disorders, such as Graves' disease or lupus
You can also get vitamin B12 deficiency if you follow a vegan diet (meaning you don't eat any animal products, including meat, milk, cheese, and eggs) or you are a vegetarian who doesn't eat enough eggs or dairy products to meet your vitamin B12 needs. In both of those cases, you can add fortified .
foods to your diet or take supplements to meet this need.