Drug information of Calcium Gloconate
Calcium Gloconate
Calcium Gluconate is the gluconate salt of calcium. This medication is used to prevent or treat low blood calcium levels in people who do not get enough calcium from their diets. It may be used to treat conditions caused by low calcium levels such as bone loss (osteoporosis), weak bones (osteomalacia/rickets), decreased activity of the parathyroid gland (hypoparathyroidism), and a certain muscle disease (latent tetany).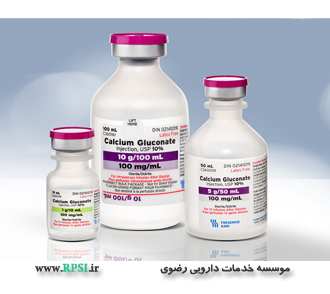 Mechanism of effect
It plays a role in normal cardiac function, renal function, respiration, blood coagulation, and cell membrane and capillary permeability. Since the metabolic functions of calcium are essential for life, when there is a disturbance in the calcium balance because of dietary deficiency or other causes, the stores of calcium in bone may be depleted to fill the body's more acute needs. Therefore, on a chronic basis, normal mineralization of bone depends on adequate amounts of total body calcium.
Pharmacodynamic
Calcium is the fifth most abundant element in the body and is also an important activator in many enzymatic reactions. Calcium also plays regulatory roles in the release and storage of neurotransmitters and hormones; in the uptake and binding of amino acids; in cyanocobalamin (vitamin B12) absorption; and gastrin secretion.
Pharmacokinetics
Approximately one-fifth to one-third of orally administered calcium is absorbed in the small intestine, depending on presence of vitamin D metabolites, pH in lumen, and on dietary factors, such as calcium binding to fiber or phytates. Calcium absorption is increased when a calcium deficiency is present or when a patient is on a low-calcium diet.
Moderate, approximately 45% in plasma. The major fraction (99%) of calcium is in the skeletal structure primarily as hydroxyapatite.
Calcium gluconate does not require hepatic metabolism for the release of Ca++ and is as effective as calcium chloride in treating ionic hypocalcemia in the absence of hepatic function.
Renal (20%) - The amount excreted in the urine varies with degree of calcium absorption and whether there is excessive bone loss or failure of renal conservation.
Fecal (80%) - Consists mainly of nonabsorbed calcium, with only a small amount of endogenous fecal calcium excreted.
Dosage
1 g calcium gluconate salt contains 93 mg elemental calcium
Dilute Calcium Gluconate Injection prior to use in 5% dextrose or normal saline. For bolus intravenous administration dilute Calcium Gluconate Injection in 5% dextrose or normal saline to a concentration of 10-50 mg/mL prior to administration and For continuous intravenous infusion dilute Calcium Gluconate Injection in 5% dextrose or normal saline to a concentration of 5.8-10 mg/mL prior to administration.
Hypocalcemia
Mild (ionized calcium 1-1.2 mmol/L)
IV infusion: 0.5-2 g over 2 hours
Severe (ionized calcium <1 mmol/L)
Without seizure or tetany: 0.5 mg/kg/hr IV; may be increased to 2 mg/kg/hr; not to exceed 3-4 g IV over 4 hours
Hypocalcemic tetany: 100-300 mg elemental calcium (~3 g calcium gluconate) IV over 5-10 minutes, followed by continuous IV infusion at 0.5 mg/kg/hr (may be increased to 2 mg/kg/hr)
Cardiac Arrest (Off-label)
1.5-3 g IV over 2-5 minutes
Calcium Channel Blocker Overdose (Off-label)
60-120 mg/kg/hr IV or 60 mg/kg IV over 5 minutes every 10-20 minutes PRN up to 3-4 doses; not to exceed 3-4 g/dose
Hyperkalemia (Off-label)
0.5-3 g IV infused over 2-5 minutes
Hypermagnesemia (Off-label)
1-2 g IV infused over 2-5 minutes
Alerts
To avoid undesirable reactions that may follow rapid intravenous administration of calcium gluconate, the drug should be given slowly, e.g., approximately 1.5 mL over a period of one minute. When injected intravenously, calcium gluconate should be injected through a small needle into a large vein in order to avoid too rapid increase in serum calcium and extravasation of calcium solution into the surrounding tissue with resultant necrosis.
Because of the danger involved in simultaneous use of calcium salts and drugs of the digitalis group, a digitalized patient should not receive an intravenous injection of a calcium compound unless indications are clearly defined.
This product contains aluminum that may be toxic. Aluminum may reach toxic levels with prolonged parenteral administration if kidney function is impaired. Premature neonates are particularly at risk because their kidneys are immature, and they require large amounts of calcium and phosphate solutions, which contain aluminum.
This product is for intravenous use only. Subcutaneous or intramuscular injection may cause severe necrosis and sloughing.
Points of recommendation
Before taking calcium, tell your doctor or pharmacist if you have any allergies. This product may contain inactive ingredients, which can cause allergic reactions or other problems. Talk to your pharmacist for more details.
This product should not be used if you have certain medical conditions. Before using this product, consult your doctor or pharmacist if you have: high calcium levels (hypercalcemia).
If you have any of the following health problems, consult your doctor or pharmacist before using this product: kidney disease, kidney stones, little or no stomach acid (achlorhydria), heart disease, disease of the pancreas, a certain lung disease (sarcoidosis), difficulty absorbing nutrition from food (malabsorption syndrome).
Use caution in patients with severe hyperphosphatemia.
Check the labels on all your prescription and nonprescription/herbal products (e.g., antacids, vitamins) because they may contain calcium. Ask your pharmacist about using those products safely.
Tags